Your shopping cart is empty!
Digital Acuity
The Topcon CC-100 chart system is a versatile solution to present charts to patients. The CC-100 provides image separation through red and green. The high resolution 19" LCD monitor ensures clear and bright chart display. All commonly known visual ac..
£2,134.60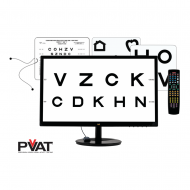 Product description: PVVAT is a robust software that will surely become your new favourite tool for acuity testing. PVVAT is jam packed with 9 different optotype that can be displayed in 7 different arrangements and over 20 additional charts and opt..
£2,669.60
Showing 1 to 2 of 2 (1 Pages)